Throughout the year we have created lots of infographics, ebooks, guides and more to help you and your peers with vendor management. Your peers have found these resources to be the most valuable in 2016, have you seen them yet?
Check out the top 10 downloads below and make sure you didn't miss any. Download them now.
HERE'S THE LIST:
#1. [Infographic] Model Due Diligence Checklist
While we all recognize that vendor management is not a checklist exercise, here's a handy list of due diligence items you should consider gathering to easily track/check off as you go to improve confidence you're doing a thorough job. CLICK TO DOWNLOAD.
#2. [eBook] Mini Vendor Management Handbook
Successful vendor management starts with knowing who your vendors are. It also involves having a process in place that keeps your list and process up to date. Learn pointers on creating your vendor list, managing that list and keeping it, along with your process, current. CLICK TO DOWNLOAD.
#3. [Infographic] Vendor Management

Cheat Sheet

Every vendor management program should consider a few critical elements that will greatly contribute to your success. Whether you're new to vendor management or want to take your program to the next level, our cheat sheet will help lay the foundation. It covers definition and lifecycle, who is involved and useful links and resources. CLICK TO DOWNLOAD.
#4. [eBook] Examination Preparation GuideBook
As exam time draws nearer, it's a great exercise to take stock on where you're at and what is left to do before that exam notice hits your desk (and it's too late). Learn pointers on exam preparation, exam notification and examiner arrival day. CLICK TO DOWNLOAD.

#5. [Infographic] Due Diligence

Guide
Do you have the proper procedures in place to continuously measure, monitor and control vendor risks? Learn what due diligence is, its importance and its scope. CLICK TO
DOWNLOAD.
#6. [Infographic] Understanding
the Differences Between a SOC 1, 2
and 3

You should be asking many of your vendors for a SOC Report, especially your critical or high risk vendors. Some vendors give you a SOC 1, 2 or even 3. Understand the differences. CLICK TODOWNLOAD.
#7. [eBook] How to Guide - Analyzing a SOC Report
We broke down SOC reports into a step by step guide to better comprehend and analyze. Learn why you need your vendor's SOC audit reports, which SOCs you need, scope of the reports and what to know when reviewing them. CLICK TO DOWNLOAD.
#7. [Whitepaper] Where's the Risk? -

The Art of Writing an Effective Risk Assessment
Writing risk assessments is the backbone that informs your ongoing risk management of all your third parties. Learn the definition of risk types, sample risk categories and helpful question tips and a breakdown of inherent risk, mitigating controls and residual risk. CLICK TO
DOWNLOAD.
#9. [Infographic] Who is a Critical Vendor?
Improve your process of labeling a vendor as critical. Learn how you should rank your third parties, useful definitions of a critical vendor and 5 simple questions to ask to help determine if a vendor is critical or not. CLICK TODOWNLOAD.
#10. [Infographic] Vendor Vetting -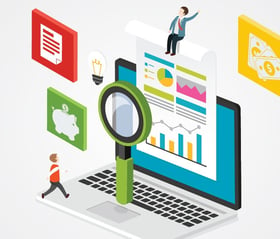 Are you doing these 7 things?
As part of your vendor due diligence process and regardless of risk level, there are 7 items your financial institution should be committing to file for every third party vendor with which you do business. Learn what they are, why you need them and where to source the data. CLICK TO DOWNLOAD.