Reputation Risk
Assessment
Understand your third party's operating processes to verify they're protecting their reputation and your own reputation.
Reputation risk occurs when negative publicity regarding your organization's business practices is reported on, often leading to declining consumer trust and negative association. Your organization's reputation and customer trust are normally impacted by a perceived or real breach or inability to conduct business to consumer expectations.
We understand each vendor is different and the risks posed are unique or more significant in specific areas. With Venminder's Reputation Risk Assessment, we analyze five different groups of vendors, which means there are five versions of our Reputation Risk Assessment bringing aspects from financial health, consumer complaints, information security and more areas of risk, all wrapped up into one summarized analysis. We make sure to cover all the bases.
A thorough review of the vendor's operations
You'll receive a holistic, expert review om several areas of your vendor's operations and identification of alarming findings that may impact your reputation.
Get a fully customized assessment based on the vendor type
You won't need to do the time-consuming back and forth with vendors to gather required data and you'll receive documented concerns based on 5 vendor types and access levels.
Be confident in risk results
See both the big picture and quickly drill down to the topics and specific items you are most concerned with and identify action items.
Outsourcing Venminder's Reputation Risk Assessment to Venminder means:
We'll gather the required data for you
You'll receive reputation risk concerns based on 5 vendor types and access levels:

Critical Vendors
Critical Third and Fourth Parties Interacting with Non-Public Information (NPI)
Vendors with Direct Customer Communication
Non-Tech Vendors with NPI Access
Vendors with Indirect NPI Access

Venminder will review the following areas on each vendor and provide a synopsis of findings as well as recommended next steps, making the Reputation Risk Assessment all-inclusive:

Policies and Procedures
Vendor Vetting
Financial Health
Information Security
Regulatory Compliance and Operations
SOC Report

On the final pages of the assessment a table outlines which areas are looked at for each group of vendors with a quick snapshot of pass or fail. At a glance, you'll know if there are key risks posed to your organization that may impact reputation.
Remember, a vendor's operational failures could greatly impact your organization's reputation if their systems are disrupted for a significant period of time. It's critical to do your due diligence and know of faulty processes.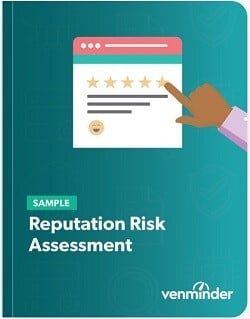 Reputation Risk Assessment Sample
Reputation risk occurs when negative publicity regarding an organization's business practices leads to a loss of revenue or litigation. Organizations are responsible for risks associated with the activities of their third parties. See a sample of what our analysts review and report on that can help identify possible reputation risk weaknesses.
Related Free Educational Resources
Ready to Get Started?
Schedule a personalized solution demonstration to see how Venminder can improve your processes.