Conclude

the vendor relationship with

dedicated

tasks, forms, due diligence, workloads, and tracking

Have a specific area where users can complete their offboarding work items on vendors/products they are terminating.



Ensure checks and balances are in place while transitioning the vendor out

Guarantee that both parties are following the exit strategy and no shortcuts are being made to maintain security and privacy of information.



Improve offboarding visibility

Like you would with onboarding, create requests and keep track of work so you have the complete lifecycle in one location.



Increase accuracy and efficiency of the offboarding process

Through dedicated automated workflows, guide the team so they can take the correct steps when offboarding a vendor.
Streamline the offboarding process by
centralizing

the

termination

activity


Termination goes beyond simply notifying the vendor to end the contract. Utilize specific functionality to do tasks like ensuring data is returned or destroyed, wrapping up pending due diligence, reviewing contract termination provisions, and more.
Track and notate offboarding requirements for products


Specific activities happen during offboarding. Assign those requirements to your team and monitor the progress.
Specific workflows for offboarding


Ensure all the initiatives are completed by creating workflows specific to what needs to happen during the offboarding process.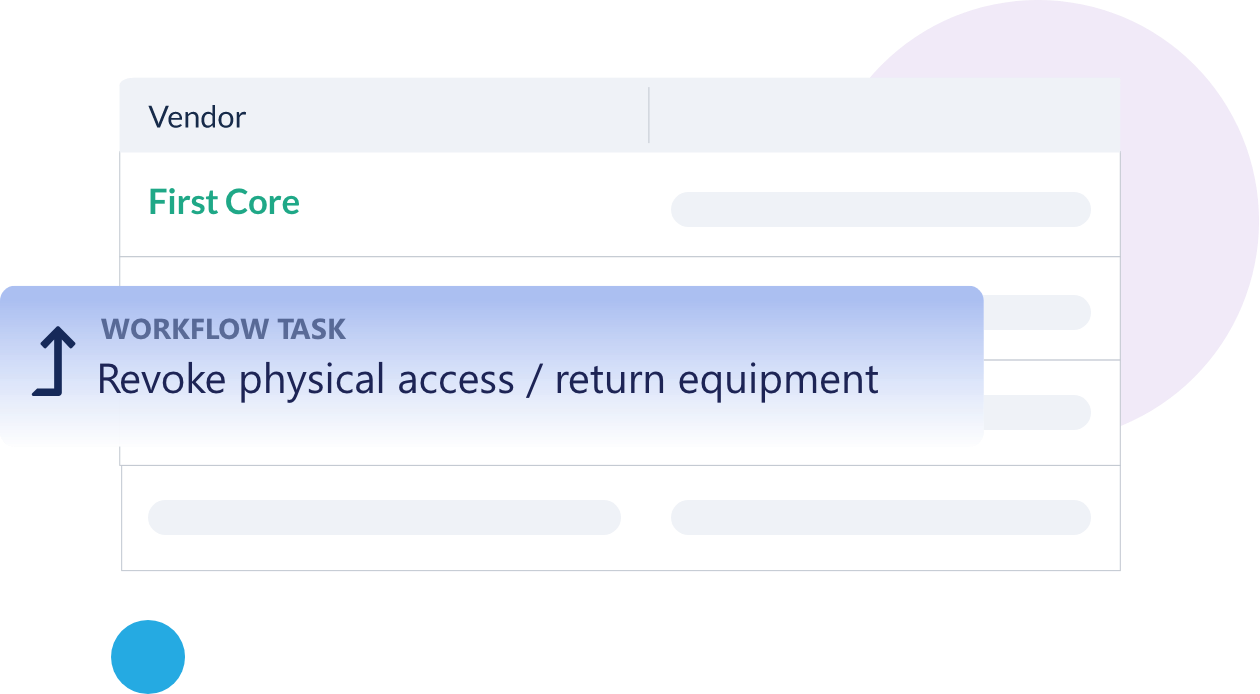 Offboarding products placed separate from ongoing


Products that are being offboarded are located in its own environment so it's easy to tell what is being terminated and work from that area.
Drive results with robust features
Create dedicated offboarding forms

Have data fields specific for the offboarding stage that the team has to fill in when termination occurs.
Access to questionnaires, risk assessments, issue management, and oversight

Even when terminating a vendor, access any elements of the platform that you normally would during onboarding and ongoing.
It's not just about our platform.


It's about our people.




Specialize in third-party risk management and are passionate about it's importance


Hold a wide range of certifications and qualifications including CISSP, CTPRP, Paralegal, CPA, CRISC, GCIH, ABCP, CCNA, and more


Stay current on industry trends and latest news


On hand to provide advice to our customers and community


Drive our educational content and advocate for best practice third-party risk management