Reporting & Dashboards
Use key metrics and indicators to manage program and vendor performance.
Easy-to-use reports and dashboards give clear
visibility

into your

vendors

Valuable, customizable reports, and pre-built dashboards help make informed decisions on vendors and allow you to easily communicate the status of your program to key stakeholders.



Reporting accuracy on your vendors and third-party risk management program

Because data is in the platform, it will take manual labor out of the reporting equation and provide accurate data, visual, and custom reports you set up.



Improve vendor monitoring

Through automated reports, you can schedule reports to be emailed on an ongoing basis to more frequently revisit data and monitor the latest information without having to be in the system.


Access reports that cover the entire vendor lifecycle

Because the platform covers the entire vendor lifecycle, so does the reporting – reports cover documents received and on file, contract data, due diligence tasks, risk assessment information, product details, risk levels, and more.
Data in a way you can understand

Find accurate answers to questions specific to your vendors, areas of third-party risk management, or overall program.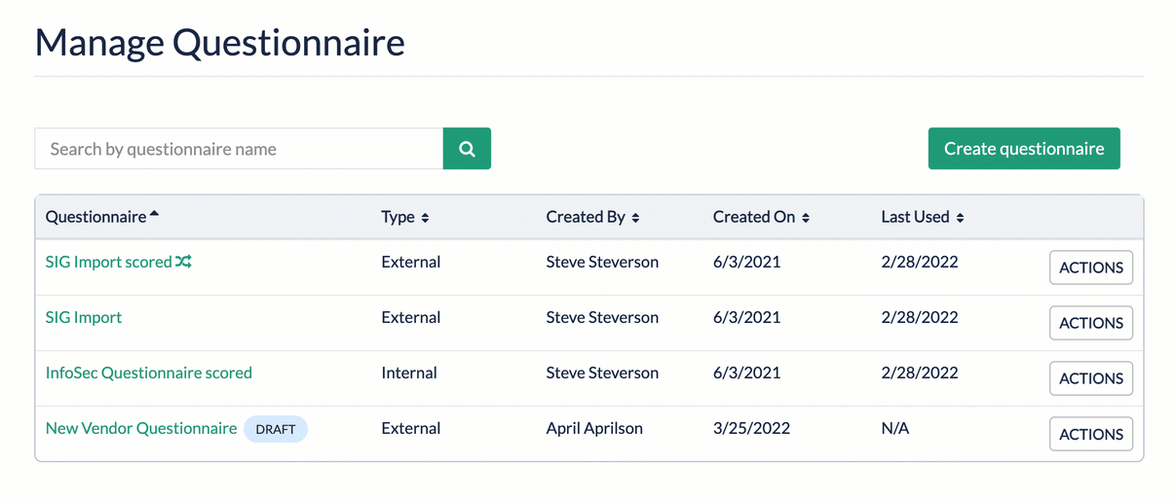 Downloadable reports in both data (Excel) or visual (PDF)


There are different types of reports to show the data in the best way for you. These are reports related to contracts, critical vendors, inventories, issues, tasks, risk, SLAs and more.
Receive scheduled reports by email


Schedule reports to receive on a consistent basis based on your preferences so you don't have to manually grab from the system. Customize recipients, frequency, message and what type of report notifications to receive.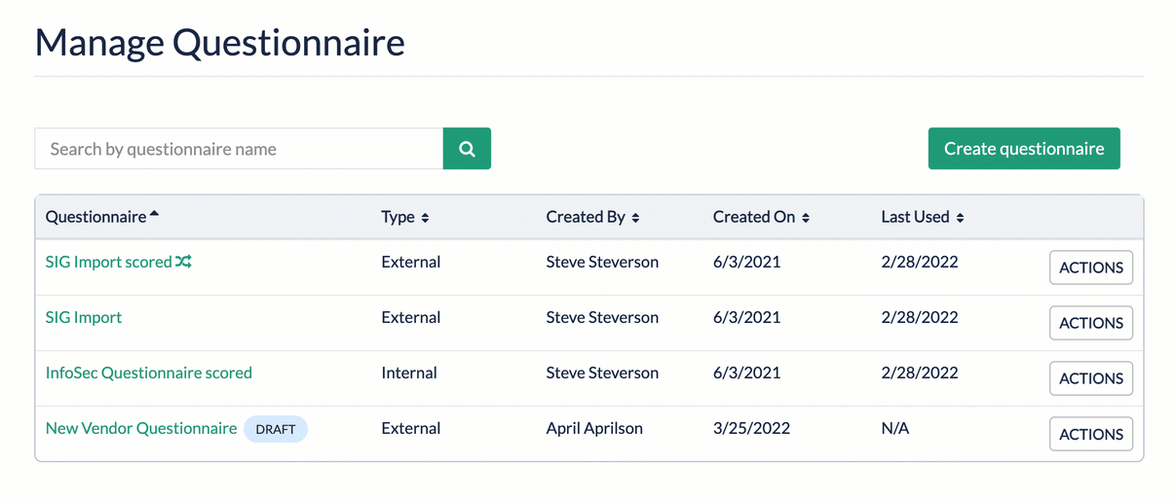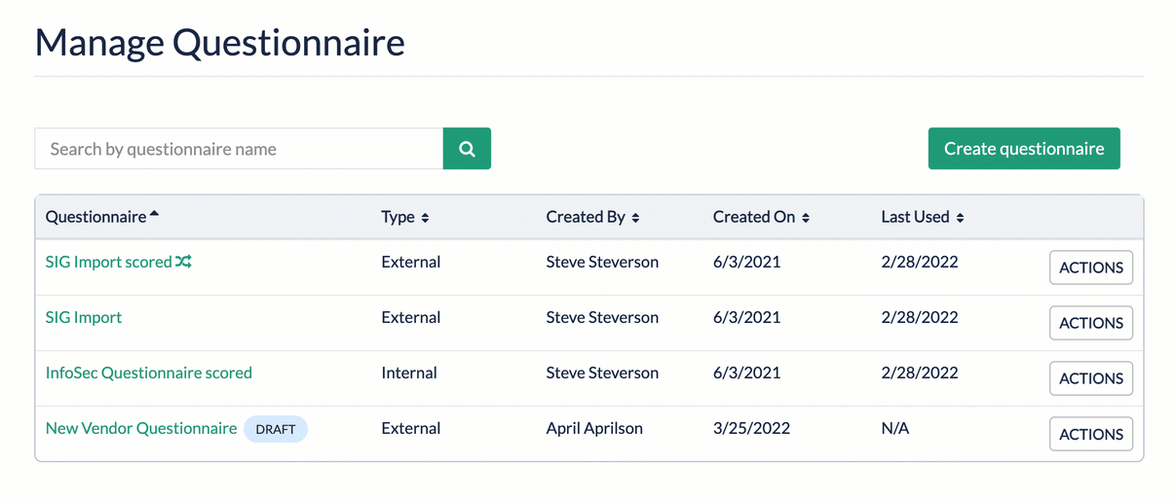 Track status, trends, exceptions and more


You can track the status, trends, exceptions and beyond through the reports for full visibility. You can also mark these reports as your "favorite" for easy accessibility.
Drive results with robust features
Use fully configurable templates or use those to create custom reports

There are templates within each category and a variety of filters to apply to make any report or template your own and easily access the information you need every time.
Create custom reports for management, board or examiners

You can have a variety of reports that are dedicated for certain purposes and audiences. Make them easily searchable by adding tags and descriptions along with creating folders for further organization.
Easy to generate

Infrequent users will easily be able to generate these reports. And, each time a report is downloaded or shared, activity is recorded in report history.
It's not just about our platform.


It's about our people.




Specialize in third-party risk management and are passionate about it's importance


Hold a wide range of certifications and qualifications including CISSP, CTPRP, Paralegal, CPA, CRISC, GCIH, ABCP, CCNA, and more


Stay current on industry trends and latest news


On hand to provide advice to our customers and community


Drive our educational content and advocate for best practice third-party risk management
"Their vendor assessment service takes a significant amount of time and pressure off of our staff, who don't have the expertise to adequately review most high-risk or critical vendors."
VP Compliance "Very user friendly with tons of features that can be utilized to automate manual processes. Everything is in one place and easy to find/access. Makes tracking down information easy and consistent "
Administrator, VRM "Can't say enough good things about Venminder! It is an excellent vendor management solution right out of the box, but it is also flexible and configurable to fit almost any vm program"
Vendor Management, InfoSec Specialist "Switching to Venminder has been absolutely life-changing, and I can't say enough good things about this amazing platform!"
Sourcing, Procurement and Vendor Management Leader "Venminder's platform provides a great centralized tool to track, assess, and review vendors. It provides robust functionality around each of the phases of the overall vendor lifecycle"
Analyst, VRM "It has provided a platform to better manage our Vendor Relationships throughout the entire vendor lifecycle. Venminder has also provided top notch support every step of the way"
Vendor Relationship Manager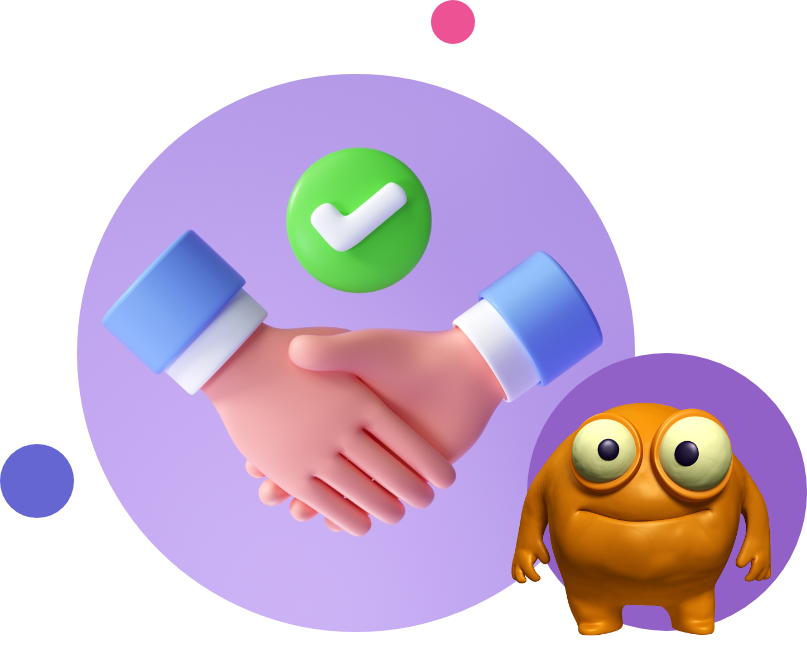 Continue your exploration