System and Organization Controls (SOC)
Assessment
Understand the effectiveness of your vendor's controls based on an assessment of your vendor's SOC reports.
SOC reports have become the go-to evidence request for organizations when performing due diligence and ongoing monitoring of their third party's technical controls. Collecting, analyzing and understanding these SOC reports is crucial to ensure the vendor is a safe partner.
Venminder has a highly trained and qualified staff of security professionals who assess the vendor's SOC reports and provide a comprehensive assessment regarding the vendor's internal controls.
A comprehensive assessment regarding your vendor's internal controls
Venminder's team assesses the controls outlined within the SOC report and notes whether those controls are suitably designed and operating effectively. Know if your vendor is not maintaining a well-formed control environment.
Increased efficiency, reduced workloads and costs
We understand that hiring certified staff to perform SOC reviews can be costly or simply too time-consuming on limited internal resources. When you partner with Venminder, our team becomes an extension of your staff and at a fraction of the cost.
Highlighted areas of concern
Venminder will guide you on recommended next steps where we see areas of concern so you can ensure the vendor remediates those issues.
Overall risk rating of the vendor's control environment
Individual risk ratings on a vendor's:

Reporting Period
Organization and Administration
Information System
Data Center
Control Objectives and Activities
Subservice Organizations
Complementary User Entity Controls (CUEC/UCC)

Areas of concern
Recommended next steps
Created and signed by a certified expert
A SOC report is an independent audit report performed by a public accounting firm. The report will attest to the existence and effectiveness of controls specified by the company that's being audited, such as your vendor. Basically, the report should tell you if your vendor has the right controls in place to safeguard your data and if those controls are actually working based on the type of audit.
It's important to thoroughly review the vendor's SOC reports as you obtain them. You can think of SOC reports as giving you the power to silently be in your third party's room as the inner workings of the company are described.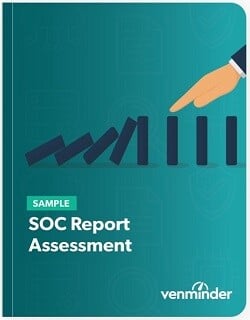 Vendor SOC Assessment Sample
Our highly trained and qualified staff of CISSPs and information security experts will assess your vendor's SOC reports and provide you with a qualified assessment of their controls, the effectiveness of those controls as well as any identified gaps. We also provide you with next steps. Download a sample to see what this assessment looks like.
Related Free Educational Resources
Ready to Get Started?
Schedule a personalized solution demonstration to see how Venminder can improve your processes.